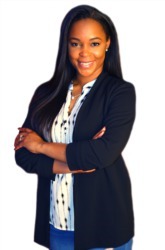 Imani Johnson is a full-time real estate agent with the award-winning John Wuertz Team. As a former elementary school teacher, Imani is able to educate buyers and sellers with confidence and professionalism.  Her charismatic way of communicating allows clients to feel comfortable along the path to the closing table. Drawing on her experience, Imani navigates multi-faceted real estate transactions including new construction, residential resale, and commercial real estate with ease. Imani prides herself in helping people of all backgrounds reach their homeownership goals.

Imani  is a native of Piscataway in Middlesex County.  She moved to Burlington County shortly after college. Recently married, she lives in Willingboro with her husband and dog. Imani not only loves her community but is also involved as a member of the Willingboro Advisory Board of Public Communications.

Whether you are looking to buy, sell or rent, Imani Johnson is committed to helping you get the job done. Contact Imani today for all of your real estate needs.